On a Sweet Note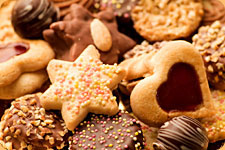 Taste will help you provide family and friends with a sweet way to celebrate special occasions, holidays, and everyday life with sugar and spice.
Cakes, Pies and Desserts
Don't forget to end your holiday feast on a sweet note! Taste will come to your home and prepare family favorites such as:
Apple Crumb Pie
Pumpkin Pie
Chocolate Pecan Pie (or Traditional Pecan Pie)
Gourmet Cupcakes
Cheesecake
Bread Pudding
And More!
Holiday Cookies
Let Taste take over your kitchen for a day of holiday cookie baking. Our holiday cookies are famous with family and friends, and include selections such as:
Traditional Decorated Holiday Sugar Cookies
Apricot and Raspberry Rugelach
Pizzelles - Traditional Italian Waffle Cookies
Gingersnaps
Snickerdoodles
Chocolate Dipped Hazelnut Shortbread
Decorated Spritz Cookies
And Much More!
Have a beloved family cookie recipe? We're happy to use it and bake your family's favorite!